We bring you 3 easy ways to prevent mold from ruining your basement because they are naturally more moisture prone due to the fact they are underground.
The natural mixing of the warmer air upstairs with the colder air in the basement creates micro condensation and humidity that can cause mold growth over time.
You may want to consider a dehumidifier if you have signs of high humidity in your basement, such as small black spots and water stains on the walls or ceilings, mildew smells and windows covered with condensation.
The benefits of dehumidifiers include preserving furniture, documents and helping keep the overall humidity in your house at an optimal level.
Waterproof Your Basement.
If your area is prone to flooding, you may want to consider a proper waterproofing of your basement first, the main benefits are prevention of structural damage, healthier environment and protecting the basement from flooding.
This adds an upfront cost to the renovation, but it makes sure you can enjoy a cozy, warm, mold-free, flood-free basement space for many years to come.
Keep Your Basement Free of Clutter.
Get rid of what you don't need, especially wooden materials, paper or fabrics to improve air circulation and avoid dust to settle there.
Storing the items that you need in plastic containers is a good way to prevent them from exposure to mildew.
Mold increases the risk of health problems such as allergies, itching eyes, asthma attacks, rashes and infections, a professional basement renovation with certified contractors can prevent this through various methods, including proper ventilation, sealing, and air flow through the area.
Nearly every basement has a mold issue if it was not properly accounted for during the building process.
Let's Get Started!
 Before launching into a full-blown basement renovation, make sure to include mold removal in the budget.
Get Your Free Quote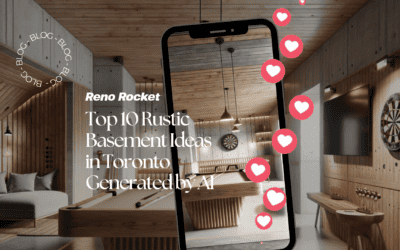 Discover the timeless allure of rustic design with these top 10 basement renovation ideas, specifically curated for Toronto homeowners looking to infuse their spaces with warmth and charm. The Reclaimed Wood Bar: A Staple of Bar Renovation Ideas Revitalize your...