Check out this 7 things to consider before renovating since embarking on a large reno project can be an expensive and time-consuming feat. "It's Dangerous to Go Alone!" Take these invaluable tips with you as you go from before to after.
Get a 2nd, 3rd, and even 4th quote from a professional before renovating.
I cannot stress this enough! Too often we either scoff at the highest bidder or jump at the best deal, thinking we got lucky or karma is finally paying us back. Or if we're planning it ourselves we can sometimes feel like the numbers don't add up. The ideal price for your project is always somewhere in the middle. This usually entails a compromise on our "wish list". Ask your network of friends and family, do a quick web search, or better yet check your local neighbourhood before renovating. Save some time – shop around.
Have a few ideas about your project that you are able to bounce off others in a clear and concise way.
Nobody loves a more detailed-oriented person than you, especially when it comes to your money! But when it comes to your project, details=success. Why? you may ask, because the clearer your project is outlined the less problems you will run into. This may take the form of a drawing, notes, an idea board, or all of the above! And while it's inevitable that your renovation might cost a little more than anticipated, or it may take extra time – avoid extra headaches by being extra-organized. Which leads us to the next point…
Talk to a designer before renovating to avoid headaches in the future.
[Better yet, find a free one! #Included]
In the business of construction or home renovation there are many, many different types of designers. Strictly speaking, some designers may be interior while others may be blueprint-based. Whatever your needs, don't be afraid to talk to a designer. In fact, many professional contracting companies provide free design services before renovating, which may include a 3D model, that you can use and reuse when it comes to your project. Here's an example of that!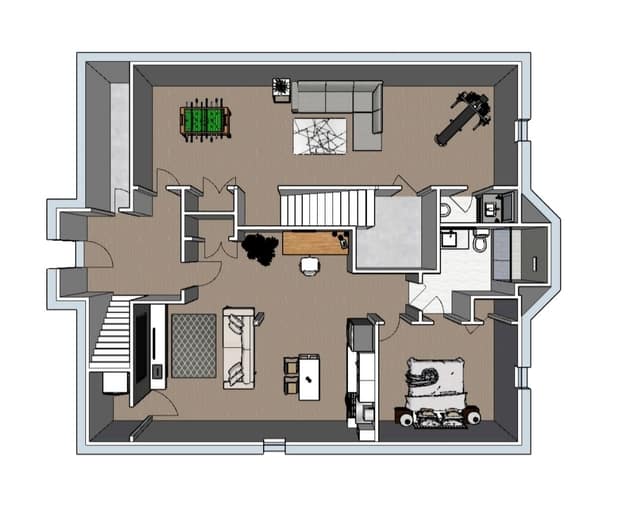 Don't bite off more than you and your family can chew when it comes to DIY.
My wife and I have a running joke in our family. I always think I can save some money and do it ourselves, whereas she believes the headaches and extra time and money spent by DIY is better served elsewhere. Regardless, it goes a little something like this depending on the day or which stage of our project we're in: "Who do you think you are, Holmes on Holmes?"; "Not everything can be fixed by using a hammer!"; "If you had just listened to me in the first place we wouldn't have to hire a contractor to fix your mistakes!" Do yourselves a favor, folks. Don't bite off more than you can chew. Be smart and savvy.
What are your options when it comes to funds? Is financing a possibility?
In this day and age, when household debt is becoming more and more crippling, it's easy to just "put it on the line of credit" or take it out of the equity of your home. Many people don't realize that it's entirely possible to finance your project responsibly through either your bank or even a reputable and professional company. And the best part of it is that the interest rate is based on your credit score. For our family, this was the best option, especially considering that our goal was to turn our basement into a money-making rental unit. With financing we had easy and small payments that our rental income took care of and then some! Bottom line: know your money options.
Always do your research when it comes to a company or a contractor.
Often this goes without saying. However, even the best of us makes mistakes from time to time. For example, my wife's good friend, Steph, hired a contractor to put up a live edge fireplace mantel. After taking a deposit (albeit just for materials) and signing a contract, she never saw him again. Turns out he had used a fake name and had scammed quite a few other people also. The moral of the story here is to check and re-check your contractor/company's referrals, testimonials, and pictures of their work before renovating. Better yet, go online and watch videos of their past clients. In this day and age nearly, all companies exist on the thing your grandma calls "The Interwebs." If their work speaks for itself then there will be most definitely be resources at your disposal. Moral of the story? Go online and do your homework.
Savings count! Are there any special promotions on now?
Even though our system of bartering is gone, many people still like to "haggle" to get the best deal possible. The renovation business is no different. You won't know if you can get a "steal" on something unless you put your foot down and good-ol' fashion negotiate, dagnabbit! Similarly, some higher-end companies offer seasonal promotions or even discounts if you're ready to move a little faster (and if you're organized! See above!)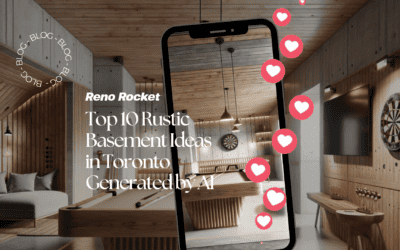 Discover the timeless allure of rustic design with these top 10 basement renovation ideas, specifically curated for Toronto homeowners looking to infuse their spaces with warmth and charm. The Reclaimed Wood Bar: A Staple of Bar Renovation Ideas Revitalize your...